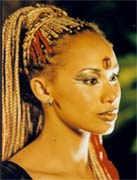 The Tribe Tour 2002 - Bringing the Dream to the World!

The fabulous four, Caleb Ross, Meryl Cassie, Michael Wesley Smith and Victoria Spence have arrived in Germany and were greeted by screaming fans at Frankfurt airport!

They have an incredibly busy schedule during their tour and we'll be bringing you an exclusive diary from the "Fab Four" in the Location Report over the next three weeks. This daily diary will follow them through their media interviews, public appearances and more! So keep checking in to find out where they are and what they're doing.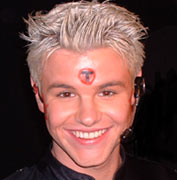 By the book!!

Since printing was invented in the 15th century, there have been many celebrated books and now, some more Tribe books in are to be released!!

Ooooh yeah! Sit back and imagine reading a diary form book written by Amber about The Tribe because thats the first book all about series 1 of The Tribe, written from "Ambers perspective" and the book is called "Beautiful New World".
These books are published in February 2002 get your fingers ready to grab those copies and will be published

Another book will be published about series 2 of The Tribe, a video diary "written" by the Mall Rats called "Between Hope and Anxiety".
in Germany, Austria and Switzerland. Happy reading...

LET'S GET TO WORK!

The Christmas Break is very nearly over for the Tribeworld team and they will soon be hard at work again to bring you the latest up to date, hot off the press pictures and stories that you can only find there first!

In the meantime, for sneaky peeks at the gang, take a look at the download section and all through the different sections of Tribeworld.com to see video clips, hear audio interviews and look at some exclusive pictures.

Remember that is the official home of The Tribe and you will see, read and hear it first on www.tribeworld.com!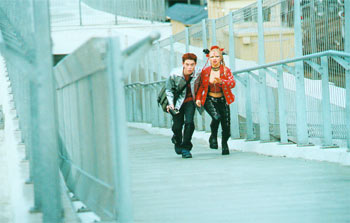 TRIBE TOUR 2002~ "BRINGING THE DREAM TO THE WORLD"

Meryl and Michael might just run in to you!

Okay, okay, there are only a couple of weeks left until the gang will be jumping on that plane and heading over to see YOU!

Meryl Cassie, Caleb Ross, Michael Wesley Smith and Tori Spence are packing their cases right now and can't wait to see you. You might be surprised at where they turn up!

Watch this space for exclusive news of their travel plans and pictures of them in action as they proceed with the tour.
IT'S PLANE TO SEE...

It's plane to see that The Tribe is so popular! Virgin Atlantic Airlines are playing The Tribe on their flights from the U.K to the U.S.A!!

So get travelling to catch up on your favourite series!!
TRIBAL STORE

James Napier (Jay) is looking forward to going shopping for new goodies!

So many of you made some big orders for Christmas that Santa must have had a hard time flying his sleigh! There are still some oldie and goodie items for sale through the Tribe Store page and in a couple of weeks there will be a new online store opening.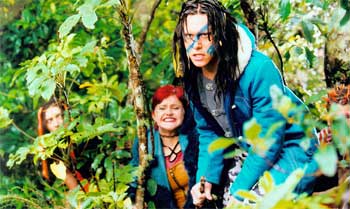 YOUR CHANCE TO MEET THE CAST!
And there is a fab competition where you could win a chance to meet the cast during their promotional visit to the UK!! You will need to enter the latest Club Competition.

To enter the competition go to Tribeworld.com and go to the CLUB section, then click on competion and complete the questions and information...GOOD LUCK!!!!

Please be aware that we cannot post specific details regarding the tour due to security reasons. We are aware that many of you are planning to be in Europe at the time of the tour but we just cannot release confidential information. But we will keep you as up to date as we can!!!!
Notice From MarksTribalWorld!

Sadly I am going away for a few days in January and the webpage will not be updated on Wednesday 9th-13th! Never fear though....a cool update will follow episode 4 of the Tribe4!!!!!!!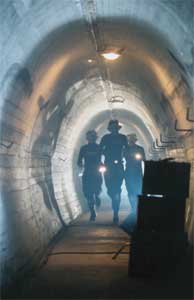 LOOK AT THEM!!!

There are heaps of Tribe series 4 photos available to look at now and lots more to come. This will keep you going until the new series hits your screens!

And more photos are in the wallpaper section where there are heaps of cool pictures to drool over!All on Tribeworld.com

Until next news session,

Stay Tribal and Keep the Dream Alive...