Tribe Series IV is finished- BUT what happened in the 7th week of production?

You'll find out below!!
Tribe IV is rapidly rocking along with a huge vibe!!!

The Tribe chat session last week on the BB was with Beth Allen - AMBER. She chatted to fans from all over the world for an hour on Thursday which was a huge success.

There was also a large tour of children that visited the studios on Thursday. They had a fantastic morning visiting set, watching filming and they were even able to meet a whole load of cast members who had been waiting in the Green Room before their scenes! They were rapt with this as it often is not possible to meet any cast members at all!

More exclusive photos!

PHOTO 1 - Crew moving equipment by railway!!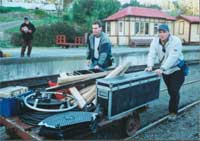 The scenes

79 scenes were shot this week and this totalled over 63 minutes of shooting time. This is a little less than usual as the Parallel Unit was only filming for two days this week.

On a slightly amusing note this week, there was a leg double used for Lex' legs for some scenes this week which involved Lex running up a very steep hill. Caleb Ross who plays the character LEX received some jovial and lighthearted jives from members of Cloud 9 for this!

The locations

PHOTO 2 - Filming at the Fortress/gun emplacements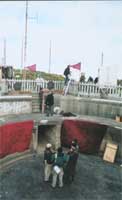 Filming took place in several diffferent areas around the Cloud 9 studios this week. These included the carpark, the main foyer which was converted to a hotel foyer interior and of course the Studios themselves.

Other locations around the city included the Opera House surround and the next door carpark building, the racecourse, a railway museum, and the Wrights Hill Fortress/gun emplacement area.

Lots of extras were used this week for many different characters, ranging from city kids, traders, Mozzie's and pedestrians to Techno's, Gunslingers, Stunt Assailants, Romans. street kids, experiment kids and crowds!!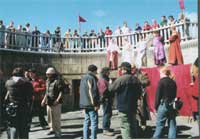 Make a start!

The earliest Crew Call was 7am on Tuesday for both units where one was filming in the studio and the other was filming on location at the racecourse.

The earliest call for our cast was 5.20am for Jaimee Kaire Gataulu - CLOE where she had a 6am Wardrobe call, and the lucky cast member with the latest pick up this week was 10.15am for Antonia Prebble - TRUDY.

PHOTO 3 - Extras and crew inside a fortress/gun emplacement ready for filming.
The weather

The weather this week was again warm, but often windy.

Here's the record of the weather in week 7 of the production:

Monday 24th September - A front approaching from the South later in the day with some rain.
Tuesday 25th September - Dry, and mostly sunny with Northerlies freshening.
Wednesday 26th September - Dry and mostly sunny with gusty northerlies.
Thursday 27th September - Cloud periods. Stronger, gusty northerlies.
Friday 28th September - Northerlies easing. Some early drizzle then fine sunny periods increasing.

See you all next week where you can find out more of the latest filming details and happenings of Tribe IV!

PHOTO 4 - Caleb Ross and the Stunt Coordinator rehearsing some fight scenes


See you again next week...

Stay Tribal!

Keep the Dream Alive...