GLENN, ZOOT, PAUL, ZANDRA, BOB, SPIKE, DANNI, DAL, PATSY, RYAN, NED, LUKE, GUARDIAN, ALICE, MAY, KC, TALLY, ANDY, TAI-SAN, MOZ, BRAY...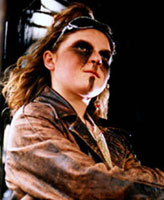 GLENN

Before the virus, Glenn was in a close group of school friends that included Lex, Zandra, and Ryan. The group lived in the same area and had known each other since their earliest years at school - they grew up together, from attending classes to hanging around outside school.

They also watched the world they knew and loved collapse due to the virus into the world full of Tribes. As close friends they naturally stuck together and tried to find a way to survive.

Glenn had always been intelligent and very determined, with a strong willpower. He wanted to have an influence in Tribeworld and had his own ideas of the best way to survive.

This often led to conflicts with the others - but especially Lex, who gradually disliked Glenn`s preferred way of doing things which often countered with Lex`s own preferred course of action - and Lex detested the way in which Glenn would sometimes be scornful and ridicule with contempt what he sarcastically called Lex`s "brilliant plans".

Lex and Glenn also became rivals over Zandra, Lex`s long-term girlfriend. Glenn made no secret of his affection and love for Zandra, who was often too focused on Lex to notice Glenn - but Lex did notice Glenn`s glances and the attention he gave to Zandra.

Sensing an opportunity, Lex blocked Glenn`s escape path when the group were being pursued by Zoot and the Locos and the last thing Lex, Zandra and Ryan saw was Glenn captured in the clutches of Zoot and the Locos.

Glenn then died of the virus but got his revenge on Lex first, a bruising.

Glenn is confirmed dead...he will never make a return.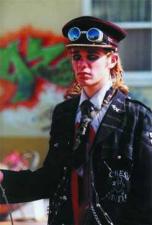 ZOOT

Zoot was the respected leader of the Locusts until his death in episode 8. He met up with Bray (his brother) in secret many times and they arranged Zoot could meet his baby girl, Brady, whose mother was the innocent Trudy. Zoot saw Brady but the Mall Rats were awakened and chased him to the balcony where he was pushed to his death by Lex. His memory lived on for some time with the Chosen who believed he was alive through them. Zoot was of course dead...he was burned and set to rest in the sea. Unless he could swim in boat chances are he is dead and gone...
PAUL

Profoundly deaf, Paul was Patsy`s younger brother. Life was hard at times with his disability but Paul had a big heart and was determined to enjoy each day as much as possible. Lex was nasty and cruel to Paul, so much he left the Tribe. No one will ever know what happend to him, dead or alive....he could return...

ZANDRA

Zandra was straight out of Vogue Magazine - she was always wearing make up and looking trendy. Zandra married Lex and was expecting a baby or maybe twins, sadly she was killed in an explosion on Eagle Mt. and was buried by Lex....she is most definitely dead, unlike Amber, Lex said he buried Zandra....but what if she dug herself out...alive...another mystery...