INTERVIEW WITH A DIRECTOR OF THE TRIBE - DAVID REID

So whats the outline role for a Directors' job for The Tribe?

A director is an individual who visualises the action laid out in a television script. With "The Tribe - Series IV" , I will be looking at 52 half hour scripts!

Once youve read the script a director needs to work out how to shoot each scene and there are a variety of issues to take into consideration - the producers requirements, where the scene is set, ie. is it in the studio or is it on location? Informing the actors what you require of them within the scene, working out where to place the camera and informing the entire crew of your requirements (art department, wardrobe, etc).

On "The Tribe - Series IV" Im directing the parallel unit over 16 weeks so its also important for me to work in close association with the director of the main unit of which there are eight over the 16 weeks.


So how many hours a day would you work?

A standard work day in New Zealand is 10 3/4 hours with travel time to and from the set additional. Therefore shoot days on location are generally longer.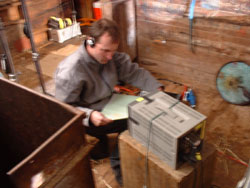 How does that day take shape - What do you usually do?
This example is from Series IV, week two, location Wainuiomata.

Up at 5am, depart 5.30am Wellington, arrive location 6.15am. Breakfast as laid on by unit. Discuss first scene with 1st Assistant Director & Director of Photography. 6.45am block first scene. Then discuss scene with actors and technicians (lighting, grips, art department, wardrobe/make-up) and continue preparation.

7.15am crew & cast ready for rehearsal. 7.30am shoot first scene ... this process continuing until lunch (3/4 hour) then back again until wrap (5.30pm). Depart location. 6.15pm arrive home. Relax and have dinner, then circa 9pm read scripts and review next days shooting schedule.


Whats one thing that you feel quite proud that you have contributed to The Tribe?

The Tribe has an international following so as a director its important to fit in. I moved from the city of Christchurch in the South Island to join Cloud 9 and the one key ingredient I hope I bring is positive energy & commitment.


When you first got into Television did you set out and go "I want to be a Director" - what were your goals?

I went to university to study painting and opted instead to study film production. The course I did at Canterbury university in Christchurch, New Zealand was focused on directing so it gave me the foundation for a career in the industry...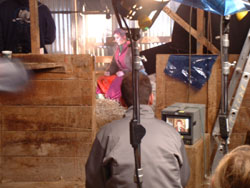 What experience or qualifications does a director need to have?

I think studying film or television is a great help, so if theres a course on offer in your area, whatever country you are in, then ring or e-mail them about their requirements if that's what you wish to do.

However its also important to "learn by doing"so get in touch with local production companies and offer yourself for free (whatever the job) if you dont have experience...youll soon know whether the film & television industry is what you want to do.


And did you ever think if this doesnt work out what else would you do?

I think its important to be realistic about your career, although a lot of people I know in the film & television industry have one key factor which helps guide them through - passion!
... and what else would I do - believe or notwhen I was a teenager I wanted to be motor racing driver... I love watching formula one on TV(go Schumacher!) and hope to get back into kart racing in 2002! But only as a hobby.


Is there any advice you could give to people wanting to get started in the Television Industry?

My primary school motto (6-12 yrs) in New Zealand was "learn by doing" which has stood me in good stead throughout my career. All i can add to that iswork hardbe passionate.