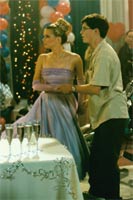 A reminder of the last Series One Episode.....
The prom night is still held despite the end of the world threat.
Bad mood and Silver Lining descide to wed at the prom.
Commander Vermont, trying to avoid any contact with Dorothy, leaves for a military base but his vechicle breaks down and he goes to Atlantis High.
The five things come to pass and the sixth was to avoid Dorothy in the dress, the Commander realising this, escapes down the same corridor not knowing Dorothy went the same way.

Grandpa Gordon leaves Giles to the prom where he and Octavia quickly leave to the woods in Josh's Chevy.

CMDR VERMONT discovers DOROTHY and they flashback to a rocking Chevvy: inside is a man in leather and "one size fits all" jeans, with a woman in the prom dress. They conclude that VERMONT must be Big D, and DOROTHY must be Callie. Do they have it the right way around? They rush off to find GILES and OCTAVIA before its too late.
The cliffhanger ....
Josh discovers his wife is yet again Sabrina.
Octavia and Giles are caught by Dorothy and the Commander.
Beanie goes crazy and doesn't recognise Jet.
Giles and Octavia are family, strangely Dorothy is their father and the Commander is their mother?!?!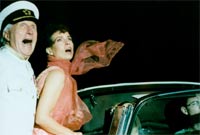 Tune in for more Atlantis High! Miss it, Miss out!