On this page I will examine the possible stoylines for series 2, what characters will have leading roles and most importantly what will happen after the cliffhanger!
This week, I delve into Atlantis Highes most wacky plots ..... The relationships! So will Jet and Beanie keep their candle lit, will Giles and Octavia ever be allowed to kiss and what about Commander Vermont's affair, Dorothy or Mrs. Vermont! Here's my view ....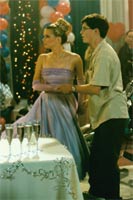 Ten things I hate about Giles and Octavia - Why there isn't any love!
1. Octavia and Giles
This couple have been in love since the very start of series 1, but they have been plauged with problems.
Problem 1. - Josh
Since the beginning of time Josh has had a love for Octavia and has got on pretty well with her parents. Josh is rich, apparently talented and is the Silver Lining which is another problem.... Josh will go to extremes to get the girl, which is Octavia and Giles is in the way!
Problem 2 - The Silver Lining
An unsuspected spark between Octavia and the Sliver lining was hit off, Octavia felt passion for the superhero who was Josh, not Giles, more pain!
Problem 3 - Q and the agency
Q and th agency once wanted Octavia to kill Giles, and that could come back to haunt her. If the agency was against relations then they could attempt to waste him?
Problem 4 - The brother and sister finale!
Well, this one is sure to end any dying light in the relationship, brother and sister kissing and all that, NOT ON! This would damge the love circle and surely make Octavia interested in the Silver Lining...
Problem 5 - Sabrina
Sabrina wants Josh for herself and sees Octavia as a threat, she could kill Octavia, or injury her beyond winning any medals.
Problem 6 - Psycho Sophie and Mr. Fluffybunny
These two would see to it that any imtimacy between Giles and a girl shouild be stopped. Plus I still don't think Sophie has her revenge for the wedding run away thingy. Sophie wouild make Giles pay by, erm, putting his loved ones in the tv?!?
Problem 7 - The World
Interesting this, all things bad happen to occur when Giles and Octavia look, kiss or talk to each other. The whole world is against the romance and demand they stop seeing each other. Plus the fact that the world ending would kill both Giles and Octavia for good!
Problem 8 - The aliens and Mr. Dorsey
Something tells me this pair wil reunite and attack Sunset Cove, they could even abduct Giles or Octavia.
Problem 9 - Kissinger
Well, everyone else has some reason to hate Octavia and Giles so.... just maybe!
Problem 10 - Series 2!
The last episode of AH could be that of series 1. Strangely leaving Ocatvia and Giles stuck in the car. Hmmm....
Conclusion!
So there ya go, ten reasons which will break the couple of joy, though they probably will get back together despite this ..... Part 2 in a couple of weeks!