Spotlight focus - Amber and Style (Part 2)

Make-up and Hair here

Amber has a really distinct look. Beth Allen originally has naturally black hair so her hair was dyed blonde for Amber. Beth`s long hair was also tied up into "Zulu knots".

Susan Glass, Hair and Make-up Supervisor, reveals how to put "Zulu knots" in your hair - and further down some make-up secrets - to get the "Amber look"...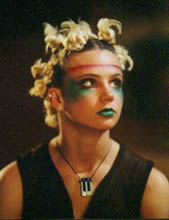 Why did you choose Zulu knots for Amber`s hair?

"Zulu knots look great" says Susan Glass, "and theyre really practical for long hair. They make a real statement too".


If I wanted to re-create Ambers look, where do I start?

"Well, keep in mind you need a look that suits you. So adapt Ambers look to your own look" says Susan Glass. "If you dont have bleached hair, the Zulu knots will still look just as good. If you do want to bleach your hair, get it done at a salon. Home bleach jobs can get quite messy!".


How long will it take to make the Zulu knots?

"Id allow about 1 1/2 hours if youve never done it before" suggests Susan.


How long will my hair need to be?

"Shoulder length or longer is usually good".


Can anyone do it?

"Absolutely! With the right products, instructions and a little determination - and plenty of time".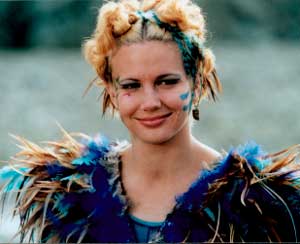 1. You will need:
Styling gel and styling cream
Hair pins
Hair spray

2. Make very defined sections with your hair

"Make sure you have lots of styling gel and styling cream. This will allow you to smooth the hair surface down, then start winding the hair around from the root until to gets really tight like a coiled rope" says Susan Glass.

"To make the hair curl up, release the tension and the hair should bend back into a coil and start to look like a knot".

3. "Pin the knot into place then...

Gel down any stray hairs.

Spray with a strong holding hair spray - and that`s it!"


Does it wreck your hair?

"No, not at all. The coiling is fine. Make sure to wash your hair with a deep cleansing shampoo once a week. This will help remove the build up of products".


How do I wash my hair when I have Zulu knots in?

"You can rinse it out. But Id advise removing them quite frequently".


How often do I need to take them out?

"Well, it depends on whether you can sleep with them in at all" suggests Susan, "I think they would be quite uncomfortable to sleep in".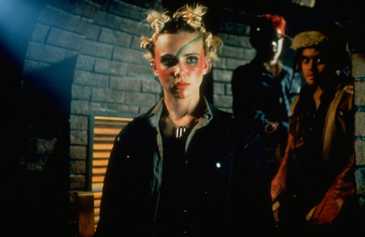 Where did Zulu knots come from?

Zulu knots are from the Zulu people, a traditional South African society near the Sea of Durban. Like most tribes, life is based around a belief system of religion, music, dancing and rituals. Many members of the Tribe would wear knots in their hair and that`s why the style is called "Zulu knots".


Making up make-up

Susan Glass, hair and make-up supervisor in the Tribe, gives some tips and secrets on how to get the right make-up for the Amber look...


What products do I need to start doing Tribe makeup?

"A black kohl eyeliner pencil and a good pencil sharpener. Black mascara and an eyebrow pencil. For eyeshadow choose gold, orange pinks. A nice tinted gloss for the lips and makeup blending brushes. Make sure you get a nice translucent powder to set the makeup".


Do I need to use expensive stuff?

"Not at all".


What is the best way to remove make-up?

"Remove eye makeup with a special eye makeup remover on a cotton square.
Invest in a good deep cleanser. Use warm water and a flannel.
Then a toner and moisturizer. To find good products that suit your skin ask a store consultant".

"And always, always remove makeup every day. Dont sleep with makeup on!".

"To keep your skin clean and blemish free make sure you cleanse your skin thoroughly after wearing makeup. Use a facial scrub once a week to remove any build up in your pores and choose a moisturizer with a sunscreen" suggests Susan.


Heres a little trick too...

Susan recommends that "if you decide on what patterns you want to your face, then get a piece of plastic and make a stencil of the pattern. This way you can sponge the pattern on time after time and it will always look as good as it did the time before. Always remember to allow plenty of time. And practice makes perfect".